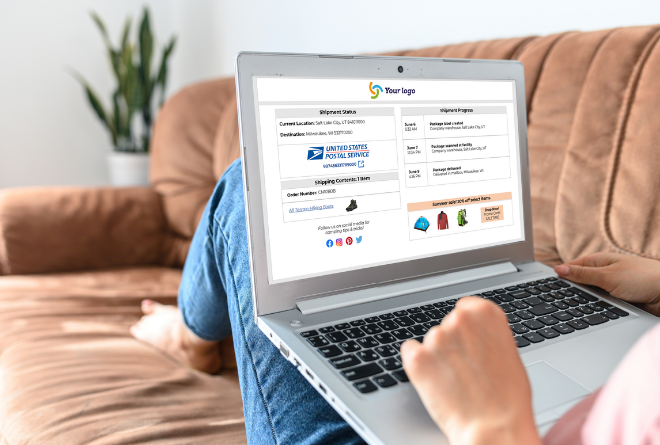 Delivery experience management is an increasingly critical piece of the e-commerce puzzle. Today's shoppers demand better insight, communication and delivery times. Here are 4 ways e-commerce shippers can use automated software to step up to the plate.
US retail e-commerce sales for the second quarter of 2021 was $211.7 billion, a 7.6% jump from the first quarter, and a 9% jump from the second quarter of 2020. And it's not slowing down.
E-Commerce brands pour millions into marketing & advertising to get buyers to their online stores and create personalized shopping experiences to increase the likelihood of a sale.
But what happens after the order is placed? Phrases like shipment visibility, delivery experience, and real-time order communication are now common jargon in e-commerce, but they're powerful strategies to build trust & brand loyalty. Online shoppers demand more visibility and consistent communication across the journey of their packages, making the customer delivery experience an essential piece of the e-commerce landscape.
A positive post-purchase experience can further solidify brand loyalty and increase returning customers. A negative post-purchase experience… well, we remember the negatives, right? We tell our friends too – the good, and the bad.
So, if your post-purchase delivery experience game isn't as strong as your pre-purchase e-commerce game, it's time to explore delivery experience management as a key strategy to improve customer loyalty.
Here's how customer delivery experience management software improves customer loyalty for e-commerce shippers.
1. Create Consumer Confidence the Moment the Order is Placed
The order confirmation email is a powerful tool that generates the highest open and click-thru rates in the e-commerce industry. Because customers aren't walking out of your brick & mortar store with their items in a bag, receiving the order confirmation email is the start of the exciting road to receiving their package.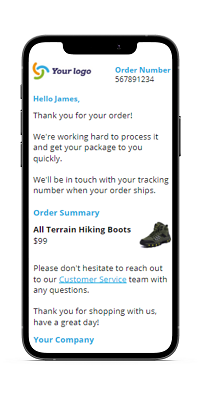 Leveraging a delivery experience management platform for post-purchase communication with your customers helps build confidence immediately. By integrating delivery experience software with your order management system (OMS), you can automate this uber-important communication as soon as your system receives the order.  
Let your customers know that you're working on processing their order and automatically populate key data points from your OMS about their shipment, including: 
Order number

 

Item(s) ordered with prices

 

Delivery address

 

Shipment service selected at check out

 

Expected delivery date range

 
Your job isn't done after the sale is made. Create additional confidence and trust with your customers after they place an order and continue communicating throughout the journey of their package.  
2. Real-Time Order Visibility Throughout the Package's Journey
The excitement doesn't stop when the consumer receives their order confirmation email. Anticipation only builds as they await their items, and consumers want to know where their package is and how long it will take to arrive. 
Customer delivery experience management software lets you turn on (or off) automated communications at key milestones throughout each package's journey. Email and/or SMS notifications can be triggered to notify the customer of their package's location, giving them a sense of security that their items are getting closer.  
E-commerce shippers can also publish landing pages configurable to customize your unique messaging & brand styling. Detail the package's full status & progress history and add dynamic product placements and announcements to drive customer loyalty and maximize revenue.  
These real-time delivery alerts & shipping status landing pages aren't just customer loyalty-building tools, they're also important marketing tools for e-commerce brands as a method to extend the brand experience and increase sales. Here's why: 
Real-time delivery alert emails have an 

average open rate of 65%

, which is four times higher than the e-commerce industry average for promotional emails

 
On average, consumers are checking the status of their delivery 

4 – 5 times for each order

. That's 4 – 5 extra interactions with your brand and added opportunities to highlight your products

 
Easy integration with your OMS, shopping cart, and carrier systems creates a streamlined and automated post-purchase communication process for your customers.  

3. Proactive Communication When Delivery Exceptions Occur
Honesty builds trust. So, when unexpected delivery delays or exceptions occur that are outside of your control, it's important to proactively communicate with the updated status of your customer's order. If you've been consistently communicating with your customer post-purchase and building confidence, this won't be a bump in the road, but rather an honest, trust-building message. And did you know, if carriers don't deliver on their shipment promises, you could be eligible for a refund? 
Just as order confirmation and shipment status update messages can be automated through delivery experience management software, so can delivery exception alerts. As soon as your carrier updates the expected delivery date of your customer's package, updates can be automatically triggered: 
A new email and/or SMS notifying your customer of the change in expected delivery date

 
A dynamic update in the previous shipping notification to show the new expected delivery date

 
It's important that both updates automatically occur to avoid confusion with your customer and trigger a WISMO (Where Is My Order?) call to your customer service department that negatively influences brand perception.  
Consistent, transparent communication throughout the journey of each package will continue to build trust & customer loyalty. 
4. Improve Future Deliveries Through Historical Data
Throughout the lifecycle of each customer's shipment, you've collected a vast amount of data. It's time to put that data to work.  
Shipment lifecycle reporting delivers insights across all organizational shipping data. Using historical data to identify strengths, weaknesses, and blind spots will help you optimize your shipping operations to improve the customer delivery experience moving forward.  
Integrated, comparative parcel analytics can measure the most important shipping metrics you need it to. Here are a few examples: 
Carrier time in transit

 

Order status overview

 

Total shipment exceptions

 

Carrier service distribution

 

Shipment costs by carrier & service

 

… and more

 
Look into your shipping data. Use it to increase operational efficiency. But, certainly don't have a human analyze the data. Integrate your business systems and automate reporting to identify what you don't know. Delivery blind spots or decreasing shipment key performance indicators will surely lead to a poor customer delivery experience. Take action on what your data is telling you to optimize your customers' experiences. 

Conclusion
A seamless customer delivery experience post-purchase leads to increased trust, brand loyalty, and higher customer retention rates. By continuing the conversation with your customers after they leave your online store, you strengthen the relationship with your brand and increase customer loyalty.  
Enveyo's delivery experience management software, Alerting, is helping e-commerce shippers improve customer loyalty and increase sales. Request a demo to learn more.