The New Standard in Shipping
Companies like Amazon have altered customer expectations for merchandise delivery. Immediate gratification–2-day delivery or less–without incurring additional cost has become the new norm. Many businesses are struggling to remain competitive in this environment without over-spending on shipping. In order to compete/survive, you have to treat your supply chain as an integral part of the overall customer experience. Traditional, disparate solutions only compound the problem and are no longer effective in this environment. Effective reporting, decisioning, actioning tools can turn shipping into a competitive advantage.
The New Standard in Logistics Software
You probably don't have bottomless pockets or fulfillment centers in every major city. So, what can you do? The only way to contend with Amazon's now-legendary shipping performance is to fine-tune the shipping environment that you do have. Enveyo's suite of shipping optimization software drives efficiency and keeps costs at the bare minimum by examining and analyzing every possible variable, optimizing every aspect of your shipping program, and recovering every eligible refund and credit. Enveyo's logistics-specific shipping software is divided into four applications, which integrate seamlessly into our easy-to-use dashboard.
INSIGHTS
Get a true global view of your logistics environment
Uncover opportunities that traditional tools are unable to identify
Negotiate terms based on shipping patterns, weights, & service types
MODELING
Predictive Analysis—accurately predict long-term effects of process adjustments
Optimize adjustments for the greatest long-term gains
Make the correct decisions based on data—know the outcome of a potential change prior to making the investment in resources/time to make the change.
CLOUDROUTE
Optimize shipping costs & increase shipping efficiency
Eliminate shipping mistakes caused by human error
Execute—take action based on what the data is telling you. Practically apply the information and let Cloudroute do what the data tells you to do.
AUDIT
Reduce manpower spent on inefficient manual audits
Hold carriers to contractual obligations—enjoy peace of mind, knowing that you are getting ALL of your agreed upon entitlements
Ditch the Gainshare—recover revenue that would have been lost with traditional tools without the vendor split. Don't allow reactive vendor revenue opportunities to influence the right proactive behavior.
Integration With Current Software
See the whole picture. Enveyo's suite of logistics software seamlessly integrates with your business management software to provide a comprehensive view of your organization's operations
Request a Demo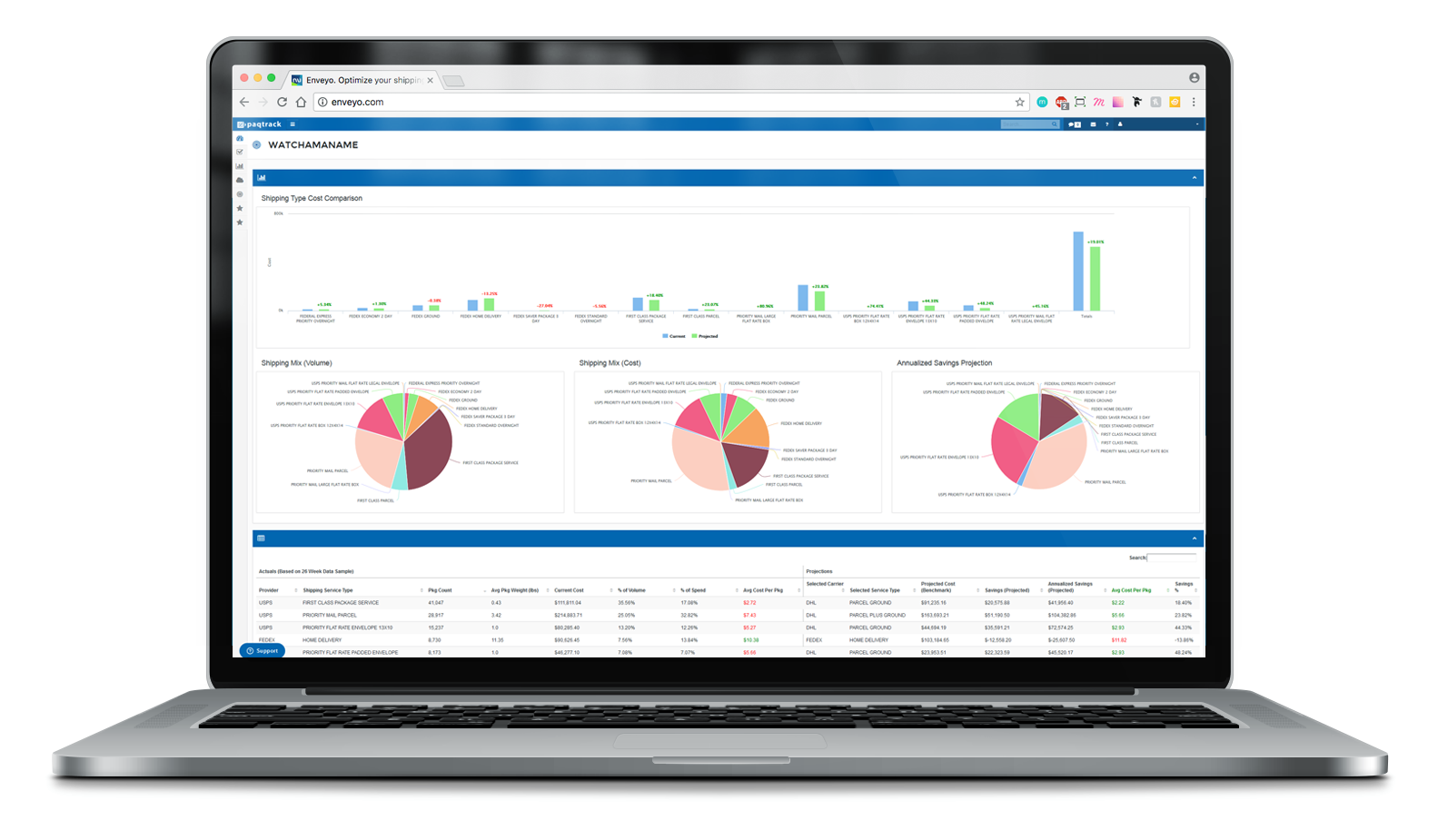 A recent study by IBM came up with some pretty surprising statistics. If you aren't already focused on taking your post-retail process to the next level, perhaps these numbers will change your mind:
Percentage of consumers who consider availability of 2-day delivery an important factor when choosing to purchase or not
Percentage of consumers interviewed who said shipping and returns have the greatest impact on brand relationship
Percentage of retailers who are losing money attempting to emulate Amazon's highly efficient shipping program
It's Your Turn
We'll show you just how valuable Enveyo's Logistics Software can be to your business
Request a Demo