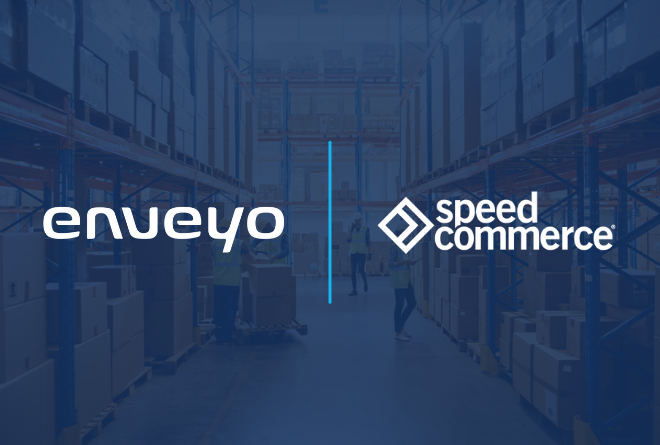 Enveyo's Logistics Optimization Software Empowers Speed Commerce During Growth Stage
Provo, UT — August 15, 2023 — Enveyo, the leading provider of logistics data management, visibility, and shipping optimization software, today announced that Speed Commerce, a fast-growing third-party logistics (3PL) provider, selected Enveyo technology to power its logistics visibility, shipment execution, and parcel audit processes.
As a growing 3PL offering B2B and B2C fulfillment for retailers and manufacturers of all sizes, Speed Commerce sought a technology provider who could support its hyper-growth goals while ensuring its primary key performance indicator, customer satisfaction, continued its upward trend.
Robert Tillman, Senior Director of Operations at Speed Commerce, explains, "selecting the right technology partner for our needs was critical. Topping our list of priorities was a partner that has vast industry knowledge with a robust platform that enables quick pivots. The small parcel market is constantly evolving — it's critical that our partner, and platform, are capable of evolving alongside it."
In keeping customer satisfaction at the core of its mission, Speed Commerce selected the Enveyo platform because it enables the team to centralize its logistics tech stack and manage mission-critical tasks in a single suite, allowing the Speed Commerce team to focus its attention on its customers, not unintelligent systems.
With Enveyo's cloud-based suite of logistics optimization tools, Speed Commerce can:
Manage logistics reporting, predictive analytics, shipment execution, small parcel auditing, and invoicing in a single platform
Respond to shipment trends through Enveyo's supply chain data control tower, and quickly implement sophisticated small parcel transportation strategies
Automate advanced multi-carrier rate shopping to ensure customers get the best carrier, service, and rate, for every package
Streamline customer billing management processes by integrating carriers, business systems, and clients
Provide its customers with real-time visibility into comprehensive shipping metrics
"We're thrilled to partner with the Speed Commerce team to support their organizational growth goals," says Coby Nilsson, Enveyo's CEO & Co-Founder. "More B2C and B2B brands are seeking modern 3PL operations with data-driven technology at the core. We're excited to be part of the competitive-differentiating solution Speed Commerce is offering."
As the logistics landscape continues to evolve, it's crucial that 3PLs lean into technology to drive success. For Speed Commerce, success started with a shipping platform they didn't need to build themselves, which allowed them to match sophisticated small parcel transportation strategies with intuitive, intelligent small parcel invoicing.
"Success is measured by Speed Commerce's ability to provide best-in-class small parcel transportation solutions to our clients," adds Tillman. "Partnering with Enveyo helps us deliver that."
To learn more about how Enveyo optimizes logistics operations for leading 3PL providers like Speed Commerce and shippers worldwide, visit www.enveyo.com.
About Enveyo
Enveyo is the leading provider of logistics data management, visibility, and shipping optimization software, helping 3PLs and shippers of all sizes move their logistics forward through data-driven technology. From shipment analytics and automated carrier selection to post-purchase delivery experience management and carrier auditing, Enveyo is the only suite deploying solutions across the logistics lifecycle. Powered by a robust, enterprise data management platform, Enveyo Insights, Modeling, Cloudroute, Alerting, and Audit solutions enable organizations to make business-transforming shipping decisions. To learn more about how Enveyo moves logistics forward, visit enveyo.com.
About Speed Commerce
Speed Commerce empowers merchants to grow their businesses and scale by handling their e-commerce fulfillment and call center needs. With over 500,000 sq ft of centrally located space, Speed Commerce picks, packs, and ships orders quickly and accurately, delighting customers daily. Their 250-seat contact center provides expert customer service to support busy online stores, freeing up the retailer to focus on their business rather than providing customer service. Follow Speed Commerce's blog, LinkedIn, Twitter, and Facebook!