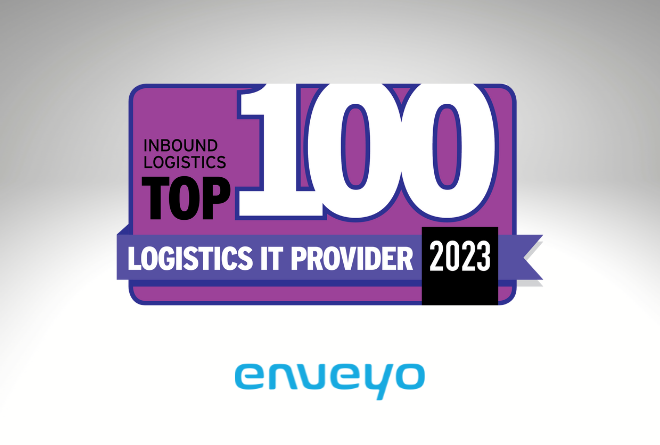 Inbound Logistics recognizes Enveyo for technology innovations that streamline supply chain operations.
Provo, UT — April 25, 2023 — Enveyo, the leading provider of logistics data management, visibility, and shipping optimization software, today announced that Inbound Logistics named Enveyo as a Top Logistics IT Provider of 2023. The annual list created by Inbound Logistics editors recognizes the Top 100 Logistics IT Providers that support and enable logistics excellence.
Drawn from a pool of more than 400 companies, using questionnaires, phone calls, personal interviews, and other research, Inbound Logistics selects the Top 100 Logistics IT Providers who are leading the way to efficiency for 2023 and beyond. Editors match readers' fast-changing needs to the capabilities of those companies selected.
"Every April for the past 25 years, Inbound Logistics editors have selected 100 logistics technology companies that enable logistics and supply chain excellence," shares Felicia Stratton, Editor of Inbound Logistics. "Enveyo was recognized for leading the way in 2023 and positioning enterprises to scale and grow. Enveyo excels at providing solutions that drive supply chain excellence and answer Inbound Logistics readers' needs for simplicity, ROI, and frictionless implementation."
Through Enveyo's suite of logistics optimization tools, logistics teams can:
Gain visibility into comprehensive logistics performance metrics to identify wins, losses, and opportunities
Streamline multi-carrier shipping processes through automated business rules selecting the right carrier, service, and rate for every shipment
Extend the brand experience and improve customer satisfaction through real-time delivery alerts that span the lifecycle of every package
Recover revenue and reduce manual intervention through automated freight auditing that identifies carrier invoicing discrepancies
"We're honored to be recognized by Inbound Logistics as one of the Top 100 Logistics IT Providers of 2023," says Coby Nilsson, Enveyo's CEO & Co-Founder. "This recognition highlights our commitment to technology innovations that support more efficient processes for shippers and 3PLs while increasing visibility into performance and reducing costs."
Stratton adds, "Our readers rely on technology solutions such as Enveyo's to drive efficiencies, provide visibility, hone execution, and, most importantly, grow. Inbound Logistics is proud to honor Enveyo for continuing to offer our readers solutions that enable supply chain excellence."
The Top 100 Logistics IT Providers list appears in all the April 2023 magazine editions. View the full list of top technology providers here.
Learn more about why Enveyo's logistics optimization solutions help shippers and 3PLs of all sizes move their logistics forward.
About Enveyo
Enveyo is the leading provider of logistics data management, visibility, and shipping optimization software, helping 3PLs and shippers of all sizes move their logistics forward through data-driven technology. From shipment analytics and automated carrier selection to post-purchase delivery experience management and freight auditing, Enveyo is the only suite deploying solutions across the logistics lifecycle. Powered by a robust, enterprise data management platform, Enveyo Insights, Modeling, Cloudroute, Alerting, and Audit solutions enable organizations to make business-transforming shipping decisions. To learn more about how Enveyo moves logistics forward, visit enveyo.com.
About Inbound Logistics
Inbound Logistics is the pioneering magazine empowering demand-driven enterprises. IL's educational mission is to guide businesses to efficiently manage logistics, reduce and speed inventory, and neutralize transportation cost increases by aligning supply to demand and adjusting enterprise functions to support that paradigm shift. More information about demand-driven logistics practices is available at www.inboundlogistics.com.