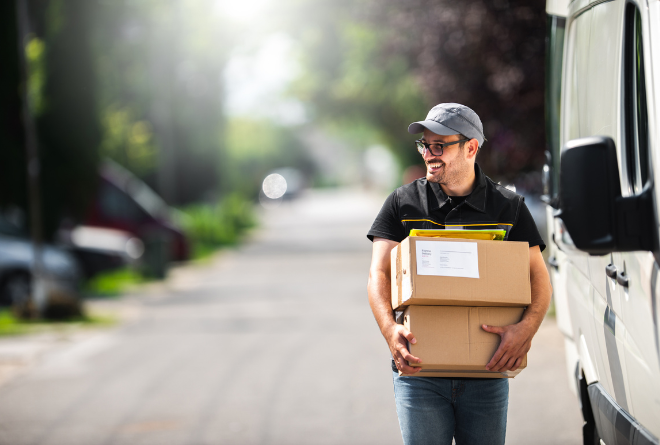 Mistakes happen. They are a part of life, learning, and growing. But costly mistakes can make or break success and maybe even your job. We sat down for a conversation with Timur Eligulashvili, Founder and President of Logistics Remix, to chat about 7 common (avoidable) mistakes during the parcel carrier selection process.
Timur Eligulashvili
FOUNDER AND PRESIDENT OF LOGISTICS REMIX
Timur Eligulashvili is the Founder and President of Logistics Remix, a carrier representative company. Logistics Remix helps retailers and 3PLs bring new delivery providers into their network to save on cost, enhance delivery performance, and ultimately drive mutual success. Timur has 20 years of experience in logistics and has a unique perspective from experience in previous roles at Lone Star Overnight, ShippingEasy, uShip, Echo Global Logistics, C.H. Robinson, and Honda Logistics. Connect with Timur to learn how his extensive experience can benefit your organization and stay up-to-date with the latest developments in the logistics and last-mile delivery fields.
7 Common Parcel Carrier Selection Mistakes
1. Not using data to guide decision-making
Data is key. Quality data is critical to ensure you are making the right decisions for your shipping operation. Some say, easier said than done. We say, when done the right way, your job will be made easier. Having multiple systems across your logistics tech stack and a variety of processes in place can create a data nightmare, but by aggregating disparate data and systems, and normalizing that data to create a single source of truth, you can get a complete picture of parcel cost and performance. 
"Neglecting data-driven insights when selecting a small parcel carrier can result in poor decision-making," stated Timur. "Not relying on data can result in choosing carriers that don't align with customer expectations, a higher shipping cost, missed deliveries, and reduced customer satisfaction."
2. Using a small pool of "trusted" carriers
Using FedEx and UPS for shipments isn't necessarily a bad choice, but it isn't your only choice. Often, regional carriers are overlooked for a variety of reasons during the parcel carrier selection process. However, the truth is that regional parcel carriers can be more efficient and cost-effective when used correctly in your strategy. 
"Relying only on a limited group of familiar carriers can result in what Warren Buffet refers to as 'mistakes of omission.' By not exploring and considering other options in the market, shippers may miss out on opportunities for improved service, lower rates, and more efficient delivery options," said Timur. 
Carrier diversification allows you to be agile in the face of supply chain disruptions, decrease delivery times, scale quickly and efficiently, and produce cost savings.
"Overlooking regional carriers due to unfamiliarity is a common mistake shippers make at first. The initial concerns are with reliability and driver or vehicle image of the regional carriers compared to the large national carriers," Timur continues. "This, however, prevents shippers from adding capacity and benefiting from lower rates through regional's lower cost operating model."
3. Jumping in without testing first
Before adding new carriers into your mix or shifting parcel volume to a new carrier, it's vital to understand how this change will impact your processes, performance, and, ultimately, your customer experience.  
"Failing to test a carrier's services prior to ramping up volume can lead to unforeseen issues and poor customer experiences," he continues. "Things like inconsistent on-time performance, unexpected charges, issues with system's integration that don't provide the latest status of the shipment can all magnify if they're not caught early on in the onboarding process."
4. Using the lowest-cost carrier
Often, the lowest cost carrier option can have longer transit times and lack the level of service you seek. It's important that shippers fully understand the service level of each carrier for each product to ensure expectations are met for both shippers and end consumers.
Timur stated it well when he said, "A negative customer experience in the shipping process has a lot of weight on damaging a retailer's brand reputation. Opting for the cheapest carrier without considering other factors can lead to sacrificing service quality, reliability, and customer satisfaction as a result of delayed deliveries or lost packages." 
In a recent survey of shoppers, more than 80% Millennials and Zoomers will abandon brands after a poor delivery experience. Today's shopper wants delivery choice options and clear communication throughout the order process from purchase to delivery.
5. Ignoring customer experience
The customer experience begins before the shopping and continues until delivery and beyond. Delivery experience management has become essential to overall customer satisfaction as shoppers demand more visibility and consistent communication across the journey of their packages.
"A carrier's ability to provide a smooth and efficient delivery experience for customers is crucial. Inadequate tracking, poor communication, and slow deliveries can negatively impact customer satisfaction," Timur added. "This is especially true for deliveries requiring someone to be home for a signature or perishable items that need to be received and refrigerated within a specified time."
6. Failing to account for peak volumes
Mid-August to mid-December is when demand surges and supply lowers, and securing capacity with carriers gets harder. The planning and preparation for peak volume starts months in advance. Securing capacity during this time can often be stressful and expensive when unprepared. 
"Selecting a carrier that can't flex with your business may result in difficulties securing capacity during times when demand increases during peak seasons. Not having enough carrier capacity secured to get orders out the door in a timely manner will lead to delays and reduced customer satisfaction," Timur stated.
7. Not regularly reviewing carrier performance
Measuring and monitoring carrier performance is a critical piece of any carrier strategy. A variety of KPIs can be valuable in determining success of your parcel carrier selections. Metrics could include: 
Carrier mix and average time in transit

On-time performance

Low performing regions or markets

Accessorial charges by carrier

Excessive costs due to package size or weight
"Failing to assess your carrier's performance periodically can lead to ongoing service issues," Timur shared. 
Regularly reviewing a variety of KPIs can help you better understand carrier performance, areas of improvement, and opportunities.
How to Avoid These Mistakes?
We asked Timur how shippers can avoid these common parcel carrier selection mistakes, and here is what he had to say:
Leverage Data

—

Historical shipping data, customer feedback, and carrier performance metrics help make more informed carrier selection decisions.
Utilize Regional Carriers — Regional carriers often offer competitive pricing, faster delivery times, and personalized customer service, which can improve customer satisfaction. 
Carrier Diversification

—

As your business evolves and grows, your goals will change. It's a good idea to continuously review your carrier network, research and evaluate new carriers and services that can improve your offering, and not limit your options to achieving your goals. Avoid having all your eggs in one basket. Have at least two carriers available to ship your orders for the majority of your destinations.  
Evaluate Carriers

—

Instead of focusing solely on cost, evaluate carriers based on a comprehensive set of criteria, including delivery speed, reliability, customer service, and technology integration, to ensure you select the best carrier for your business needs.
Internal Communication and Expectations

—

When you find a carrier you want to add, communicate internally to ensure other teams, such as customer service and sales, understand what this carrier brings to the table, what the onboarding plan looks like, and how to best work with the carrier when issues arise. Set it up for success by ensuring communication is clear, and everyone is aligned around the same set of objectives. 
Continued Collaboration — Partner with the right people with expertise who you can lean on to help navigate the carrier selection process. This could be someone that understands the space, how to negotiate rates, and which carriers may or may not be a good fit to accomplish your goals. Partner with a solution provider to help make sense of the large amount of data you have and help you make better and more efficient decisions for your business.
Parcel shipping mistakes happen, but with the right people, processes, and systems, these mistakes can be minimized or eliminated. Start by partnering with trusted technology and teams.