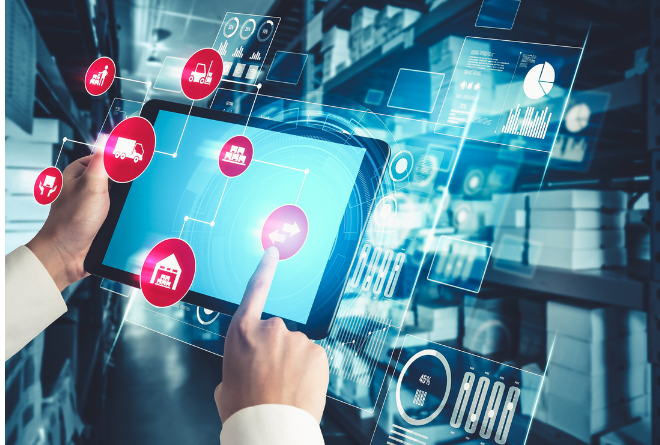 The e-commerce shipping industry is facing various supply chain challenges, and solving them is becoming more complex by the day. So how can shippers overcome these obstacles now and in the future? The answer is multi-carrier parcel shipping software. In this blog, we look at five automation tools for conquering supply chain challenges.
E-commerce shipping is all about getting parcels delivered to customers on time and within budget. When customers place an online order, they expect their package to arrive by the delivery date. If that doesn't happen, the customer loses trust in the shipper and rethinks their next purchase. Therefore, e-commerce shippers need to provide a superior delivery experience every single time.
But the pandemic disrupted the entire supply chain. Many packages are taking longer to deliver and cost more to ship. There are many reasons for these problems, and they're complicated:
Carrier capacity limitations
Supply chain labor shortages
Delivery experience expectations from consumers
Because these problems are complex, they aren't going away anytime soon. In order to compete in the short-term, many shippers are considering or shifting to omnichannel fulfillment as well as same-day and last-mile shipping.
However, shippers need to find a long-term solution for overcoming today's challenges and preventing them in the future. The answer is multi-carrier parcel shipping software. But how do you know if you need it?
3 Signs You Need Multi-Carrier Parcel Shipping Software
1. Reliance on Manual Processes
Since e-commerce shipping includes many moving parts, it's hard to keep up when completing tasks by hand.
If you're relying on a carrier's website to create shipping labels, the time it takes to manually type in your shipping data can be time-consuming. First, you need to go to a carrier's website and manually type in the data for each carrier's shipping labels. Then, you need to figure out how to efficiently pack your items to ensure you're accurately accounting for dimensional pricing.
Package prices vary based on how much space and weight a package will take up on the carrier's vehicle. If you don't get the price correct on the label, the carrier will add surcharges, leading to you spending more money than you need to on shipping.
2. Single Carrier Shipping
Another sign you need parcel shipping software is if you rely on a single carrier to ship all of your packages. With today's supply chain obstacles, you need to expand your operations to include multiple national, regional, and final mile carriers so that you can pivot your shipping needs when necessary. That way, you can get your parcels delivered on time and within budget.
3. High Shipping Volume
When your shipping volume grows to the point where manual processes are more cumbersome than useful, and your single carrier shipping strategy is causing delays, it's a clear sign that you need parcel shipping software.
You don't want to lose business because your carrier can't handle the volume. Instead, it's time to upgrade your shipping platform with software that includes practical automation tools that selects the best carrier, service, and rate for every package.
What Multi-Carrier Parcel Shipping Software Do You Need?
Multi-carrier parcel shipping software empowers you to make the best shipping decisions, which saves time and money while improving your customer satisfaction and building customer loyalty.
But you can't just buy parcel shipping software and call it a day. You need to ensure you get the right automation tools to take your operations to the next level.
Here are five automation tools that you should look for in multi-carrier parcel shipping software:
Cloud transportation management system (TMS)
Delivery experience management
Parcel auditing
Parcel spend management
Logistics optimization
1. Cloud Transportation Management System (TMS)
One automation tool you need is a cloud transport management system (TMS). This advanced decisioning engine will help you:
Choose the right sized package for each shipment
Select the carrier with the best rate
Pick the service with the fastest route
Choose the Right Sized Package for Each Shipment
Before you get your package on a carrier's vehicle, the first thing you need to do is pack your shipment. A major benefit of a cloud TMS is cartonization. Cartonization is an automated function that selects the right sized box or packaging for each shipment. The system takes in the size, shape, and weight of each item from your OMS/WMS to automate the decision of which size box to use.
Bigger and heavier packages will cost more because carrier fees rely on how much space a package takes up in a vehicle, so finding the optimal package size is crucial. And suppose you're shipping multiple packages to a single customer. In that case, you can set up an algorithm for the smartest shipping method and pricing so your manifesting system can tell you if using one or multiple boxes gets the best rate. This will also help you avoid additional dimensional weight (DIM) charges.
Select the Carrier With the Best Rate
Before the supply chain disruption, shippers could get away with only having one carrier. But times have changed, and many shippers are worried about capacity issues, especially during their peak shipping season(s). Therefore, a multi-carrier strategy is vital to making sure you can get your parcels to customers in the timeframe you promised them.
But choosing the best carriers for rates and other surcharges can be time-consuming if you do it manually. With a cloud TMS, you're able to smart shop and find the perfect carriers for your parcels at every mile of its journey.
Another benefit is that a cloud TMS considers carrier accessorial charges when suggesting which carrier is right for your needs. Accessorial charges can include:
Residential surcharges
Indoor and white-glove deliveries
Fuel surcharges
Oversized and overlength packages
Hazardous materials
As you can imagine, trying to consider all these accessorial charges manually is a laborious process. However, you can cut through the noise with a cloud TMS to determine the carriers that make sense for your shipping requirements.
Select the Service With the Fastest Route
Since speed plays a crucial role in the success of your shipping operations, it's important to know the fastest route for each shipment based on the delivery option your customers select at checkout. With a cloud TMS, you can create an automated ruleset that combines the rate and route to choose the optimal option for every package.
This tool makes it easy to change and combine rulesets to find the fastest route and cheapest rate, which puts you in a better position to satisfy your customers and control your shipping costs.
2. Delivery Experience Management
When a customer makes an online purchase, they want to follow each step of the delivery process, from the time the package ships to the moment it ends up at their door. In the e-commerce space, this is often called shipment visibility, delivery experience, or real-time order communication.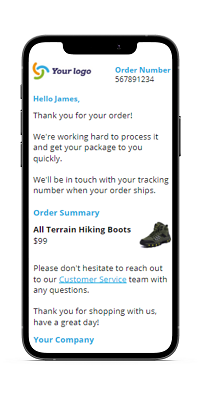 To provide these package shipment insights, you need a delivery experience management tool that gives real-time shipping alerts to your customer regarding the status of their package throughout its lifecycle, including:
Order creation
Order shipped
Package out for delivery
Delivery delay or exception
Package delivered
These real-time notifications are often sent by email or SMS, and they create a positive post-purchase experience that helps to build brand loyalty and increase returning customers.
The tool can also offer valuable shipment lifecycle reporting that allows you to increase efficiency and save money.
3. Parcel Auditing
When a carrier doesn't meet a contractual agreement, you may be eligible for a refund. But if you don't have an automated parcel auditing tool to review carrier performance and automate refunds, you could be missing out on recovering revenue.
Parcel auditing software monitors individual shipments and determines if they are delivered according to your carrier agreements, the rate charged, and any surcharges incurred. Not only does this kind of tool save you the time and effort of manual audits, but it can review all of the relevant variables on every shipment to capture eligible refunds.
4. Parcel Shipping Analytics
Determining parcel spend by manually combining data from many sources is time-consuming and error-prone. A parcel shipping analytics tool alleviates these concerns by integrating with multiple systems to cleanse and normalize the data, providing you with deeper insights into your shipping program. And if the tool has reporting built-in, you can utilize the reports for making smarter decisions faster.
For example, these reports can give you a deeper look into:
Parcel time in transit, including how long carriers are in transit for each shipment
Variable costs, such as costs for each carrier's services and all accessorial charges
Geographical buying trends so you can make smarter shipping decisions based on where the largest subset of your customers are
With these insights, you can compare carrier performance and benchmark against accessible, real-world data. You will also be able to negotiate terms based on specific shipping patterns, weights and service types.
Data visibility is an ongoing challenge for third-party logistics providers (3PLs) and their customers. Customers want to see their data for how the 3PL provider is performing for them, and the 3PL needs to enable that visibility. Parcel shipping analytics software enables this level of visibility because it includes the metrics that both the shipper and the customer want to see. The 3PL can see their shipping operations and performance holistically while also providing white-labeled reporting for their customers.
The tool also serves as billing management software for 3PL providers to distribute accurate bills to their customers. It accounts for what each customer owes you based on the rates and discounts you've contracted with the carriers without exposing your native rates to clients. This saves you money, time, and the hassle of trying to figure it all out manually, which makes an even bigger difference when you work with multiple brands nationwide.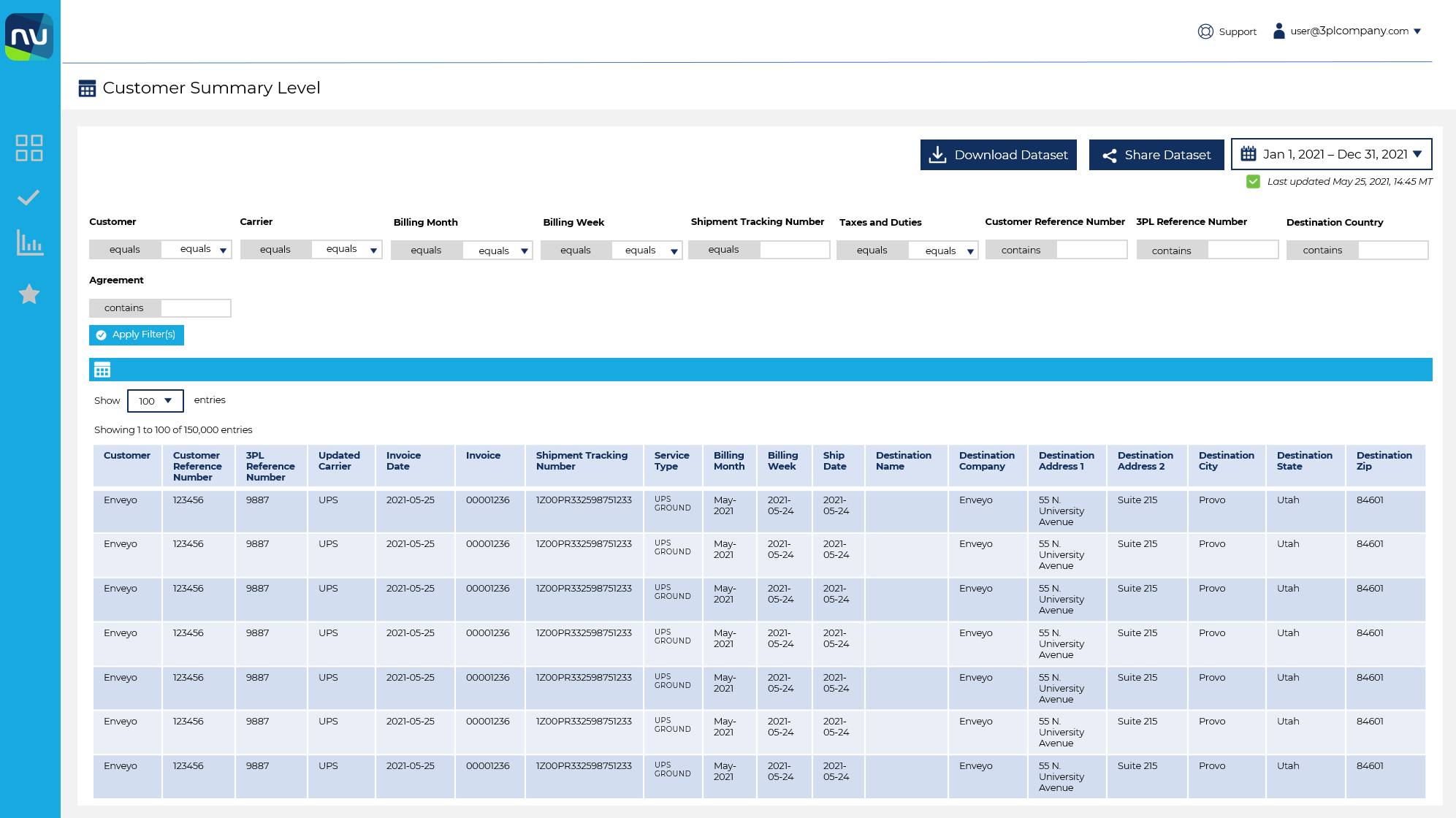 5. Logistics Optimization
Optimizing your shipping operations is challenging, especially if you're a 3PL provider. When onboarding a new customer, you may be considering if you should use your established carrier rates or the rates your customer negotiated. It's important you make the best business decision for both the 3PL and the customer.
To help with this, get a logistics optimization tool for modeling 3PL customer decision-making. This tool can predict business outcomes to future scenarios to help determine whether the relationship between you and the 3PL makes sense for both parties before you make the shift. It uses data from multiple systems to answer unknown questions and model real-life scenarios.
For example, if you lack warehouse space, it may be enticing to work with a 3PL to optimize package fulfillment. But how do you know if that's a good business decision? Use the logistics optimization tool to analyze and model shipping data and create possible outcomes so you can determine if the partnership shows promise.
Similarly, shippers can use logistics optimization software to gain a more accurate view of potential long-term impacts before teaming up with a carrier. Logistics optimization finds the story in the shipping data and brings it to life through modeling. As a result, shippers gain a deeper understanding of how the business relationship would work and they can make a data-driven decision.
Multi-Carrier Parcel Shipping Software Platform Benefits
Now that you know what multi-carrier parcel shipping software tools to consider, it's time to think about whether you should get individual solutions or an all-in-one platform.
While it may be tempting to get only the tools you think you need now, it can be more expensive to implement tools that don't natively communicate with each other. Plus, you may find that you need more functionality down the line to solve new challenges, which only leads to higher costs and more headaches.
Shippers will benefit from a SaaS software suite with all tools interconnected under one data management platform because centralizing & standardizing your data in one system helps you avoid systems communication & upgrade issues downstream. You'll also save money and internal resources by implementing one software license for the suite of tools instead of individual licenses from various software providers. This way, you won't have to worry about needing to purchase a different tool later on. Instead, you'll be able to pivot right away, avoiding downtime in both implementation and training your team.
A multi-carrier parcel shipping software platform can even help to:
Reduce human touchpoints
Solve the challenge of workforce issues
Make smarter decisions
Increase efficiency
Conclusion
Many e-commerce shippers are worried about today's supply chain challenges. Shippers can't claim surprise with respect to pandemic-related disruptions this year. If they're unprepared, it's because they didn't evolve. To set themselves up for success, shippers need multi-carrier parcel shipping software to automate processes and make smart decisions.
Enveyo's shipping and logistics management software delivers data-driven results that drive your business forward. Schedule a demo to see how your shipping program can benefit from our all-in-one software solution.