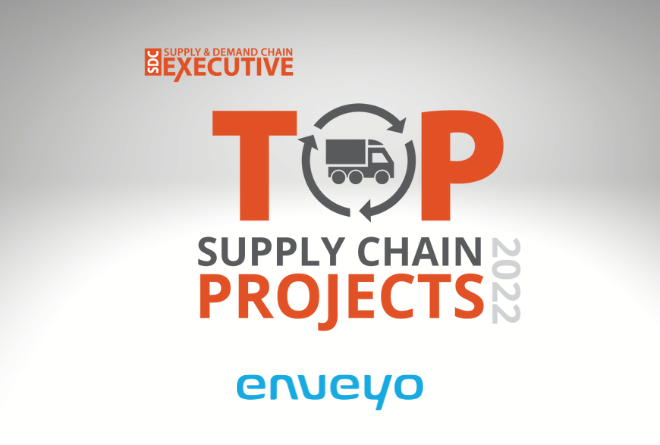 Parcel Analytics Software Implementation for leading third-party logistics provider, Stord, earns Enveyo best-in-class recognition for supply chain excellence
Enveyo, a leading Transportation Management System (TMS) and shipping optimization software provider, today announced Supply & Demand Chain Executive, the only publication covering the entire global supply chain, selected Enveyo as a recipient of the Top Supply Chain Projects Award for 2022.
The Top Supply Chain Projects (formerly known as SDCE 100) spotlight successful and innovative transformation projects that deliver bottom-line value to small, medium, and large enterprises across a range of supply chain functions.
Enveyo earned its second consecutive SDCE Top Supply Chain Projects Award for its implementation of cloud-based, parcel shipping analytics solution, Insights, for Cloud Supply Chain pioneer, Stord. Stord selected Enveyo Insights to enhance shipment program visibility for its growing customer segment of e-commerce shippers.
Through integration with Stord's vast network of parcel carriers and internal business systems, Enveyo Insights powers a customer-facing, Stord-branded portal reporting on real-time, comprehensive parcel shipping data specific to each customer's shipments, including:
Carrier time in transit
Cost per piece by carrier
Delivery exceptions
Service & accessorial charges
Time from ordered to delivered
Package status
and more
Additionally, the Enveyo implementation enables the Stord team to streamline its customer billing management processes through dynamic business logic and automated invoice creation. The Enveyo Insights implementation ensures that when published carrier rates shift, Stord customers remain confident in always receiving 3PL market-leading discounted rates off the carrier's published list price.
"We're honored that Supply & Demand Chain Executive selected Enveyo as a Top Supply Chain Project winner for the second year in a row," says Coby Nilsson, Enveyo's co-founder and CEO. "Our partnership with Stord reflects our daily efforts to revolutionize the way technology drives logistics with big data strategy. We congratulate our fellow Top Supply Chain Project winners on innovative solutions that continue to drive our industry forward."
"The past 18 months have been a tumultuous time for U.S. supply chains," says Marina Mayer, Editor-in-Chief of Supply & Demand Chain Executive and Food Logistics. "But the core reason today's supply chains haven't completely fallen apart is because solutions providers have been working diligently to partner with customers and clients to streamline processes, implement emerging technology and deliver results that improve bottom lines and the environment. For many of these collaborations, it's about achieving full visibility, complete forecasting, end-to-end leverage and the ultimate in sustainability."
To view the full list of 2022 Top Supply Chain Project winners, visit sdcexec.com.
Learn more about Enveyo's partnership with Stord and go to enveyo.com to see how Enveyo is revolutionizing the way technology drives logistics.
About Enveyo
Enveyo is revolutionizing the way technology drives logistics. As the only multi-carrier parcel TMS provider enabling end-to-end supply chain visibility, organizations are optimizing their shipping operations with Enveyo's cloud-based suite of solutions. Powered by a robust enterprise data management platform, Enveyo provides real-time access to meaningful reporting to increase efficiencies for customers across industries including retail, medical, aerospace, fulfillment & third-party logistics companies. To learn more about how Enveyo is revolutionizing logistics, visit enveyo.com.
About Supply & Demand Chain Executive
Supply & Demand Chain Executive is the only supply chain publication covering the entire global supply chain, focusing on trucking, warehousing, packaging, procurement, risk management, professional development and more. Supply & Demand Chain Executive and sister publication Food Logistics are also home to L.I.N.K. and L.I.N.K. Educate podcast channels, L.I.N.K. Live, SCN Summit, SupplyChainLearningCenter.com and more. Go to www.SDCExec.com to learn more.