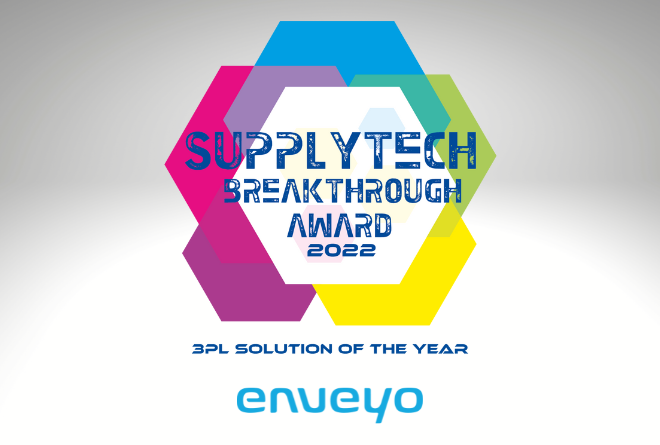 Annual Awards Program Recognizes Top Innovators in Global Supply Chain Technology and Logistics
Enveyo, a leading Transportation Management System (TMS) and shipping optimization software provider, today announced it has been selected as the winner of the "3PL Solution of the Year" award in the inaugural SupplyTech Breakthrough Awards. The awards program conducted by SupplyTech Breakthrough, a leading independent market intelligence organization, evaluates and recognizes standout technology companies, products, and services in the supply chain and logistics industry around the globe.
SupplyTech Breakthrough selected Enveyo as the winner of "3PL Solution of the Year" because it is the only shipping software provider that automates parcel analytics and billing management for third-party logistics (3PL) providers. Through integration with 3PLs' carrier networks and internal business systems, Enveyo's parcel analytics solution, Insights, powers a customer-facing, 3PL-branded portal reporting on real-time, comprehensive data specific to each customer, including:
Carrier time in transit
Cost per piece by carrier
Delivery exceptions
Service & accessorial charges
Time from ordered to delivered
Package status
and more
Additionally, Enveyo Insights streamlines complex 3PL billing processes and protects visibility into rates. Dynamic business logic empowers 3PLs to retire legacy customer billing processes and shift to a dynamic process that ensures when published carrier rates shift, customers always receive market-leading discounted rates, while 3PLs gain accuracy and security in invoicing. Simplifying billing management results in a reduction in business risk and labor costs, an increase in customer satisfaction, and a new value add for 3PLs.
"What an honor it is to receive the '3PL Solution of the Year' award in the inaugural SupplyTech Breakthrough program. These past two years have posed a number of challenges for 3PLs. Solving parcel analytics and billing challenges helps these organizations turn shipping into a competitive advantage," said Coby Nilsson, Enveyo's co-founder and CEO. "E-commerce brands want their 3PL partners to be technology providers. Enveyo Insights makes that a reality with improved accuracy, understanding, and most importantly, trust."
The mission of the annual SupplyTech Breakthrough Awards program is to conduct the industry's most comprehensive analysis and evaluation of the top technology companies, solutions, and products in the supply chain and logistics industry today. This year's program attracted more than 1,200 nominations from over 15 different countries around the globe.
"For 3PLs, to say shipment analytics and billing management is 'complex' is an understatement, as many 3PLs face challenges around delivering shipment program visibility to their e-commerce clients and invoicing them in an accurate and timely manner," said Bryan Vaughn, Managing Director of SupplyTech Breakthrough Awards. "Enveyo Insights addresses these challenges for 3PLs and enables them to be technology providers. This represents true breakthrough technology in the industry, and we are thrilled to congratulate the Enveyo team for taking home our '3PL Solution of the Year' award in the 2022 SupplyTech Breakthrough Awards program."
About Enveyo
Enveyo is revolutionizing the way technology drives logistics. As the only multi-carrier parcel TMS provider enabling end-to-end supply chain visibility, organizations are optimizing their shipping operations with Enveyo's cloud-based suite of solutions. Powered by a robust enterprise data management platform, Enveyo provides real-time access to meaningful reporting to increase efficiencies for customers across industries including retail, medical, aerospace, fulfillment & third-party logistics companies. To learn more about how Enveyo is revolutionizing logistics, visit enveyo.com.
About SupplyTech Breakthrough
Part of the Tech Breakthrough organization, a leading global provider of market intelligence and recognition platforms for technology innovation and leadership, the SupplyTech Breakthrough Awards program is devoted to honoring innovation and market disruption in supply chain & logistics technologies, services, companies, and products around the world. The annual SupplyTech Breakthrough Awards provide public recognition for the achievements of SupplyTech companies and products in categories including Inventory Management, Supply Chain Visibility, Transportation Management, Material Handling, IoT and Robotics, and more. For more information visit SupplyTechBreakthrough.com.