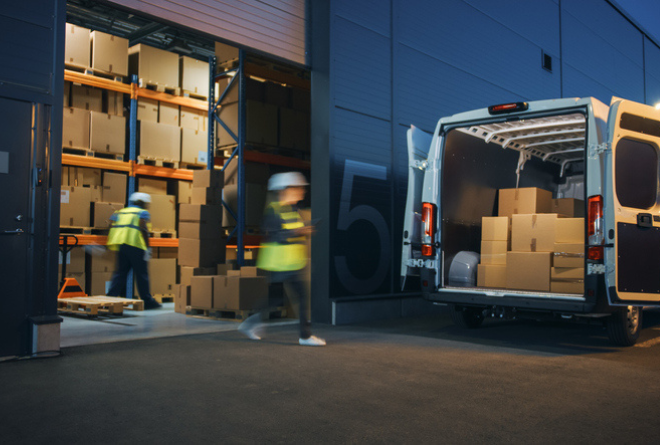 Exercise 5 times a week, spend less money, read one book a month, and increase small parcel efficiency while managing costs — okay, so small parcel optimization isn't your personal New Year's resolution, but it should be part of your organization's goals for next year. 
The last year brought us labor shortages, rate spikes, port delays, and more challenges. Parcel shipping optimization must be a critical piece of your organization's initiatives for 2023 to reduce costs, improve service, and maximize visibility. We outlined 5 parcel shipping best practices to future-proof your operations.
1. Get Complete Shipping Data Visibility
Often supply chain professionals don't use or trust their analytics because of data silos and poor data integrity. They forgo making decisions based on the data because they lack confidence in the data's quality.  
Data visibility starts with data quality. Data quality can be defined as data that fits its intended use and is validated, accurate, complete, and timely. Without quality data, all KPIs, reports, and analytics are unreliable. Data visibility is more than just answering the question, "where is my package?" With complete transparency into parcel shipping, you can quickly uncover opportunities, compare carrier performance, negotiate contracts, and more.
In 2023, you need comprehensive analytics with quality data at your fingertips. Advanced insights allow you to make decisions quickly to improve operations, service, and financial performance. With a global view of parcel shipping data, you can identify cost-savings, and drive real ROI. 
"Their tools and reporting give us immediate and ongoing visibility that allows us to continually identify opportunities to optimize and introduce efficiencies." – Jim Fiorino, Director of Distribution, CooperVision.
By leveraging Enveyo Insights analytics & reporting solution, CooperVision gained complete visibility into their supply chain and negotiated more than $4.7 million in savings in base transportation costs. Read the case study to learn how.
2. Enhance Post-Purchase Customer Experience
Consumers expect clarity and communication during the entire post-purchase experience. The customer wants transparency from the order to delivery and everything in between. Estimated delivery dates and shipping expectations are critical during the customer purchase process.
Shippers need to set clear expectations of parcel delivery dates and communicate all shipping exceptions, such as delay of shipment. Shoppers often forgive companies who are transparent. If delivery dates are not met and there is a lack of communication, brand reputation can be damaged and customer loyalty diminished.
In a recent survey of shoppers, more than 8 in 10 Millennials and Zoomers will abandon brands after a poor delivery experience. Each generation has less patience for poor deliveries. The study also found that the speed of delivery is the number 1 priority for consumers, with shoppers placing the most significant importance on packages arriving consistently on time. The second most important factor was having real-time communication about the pending delivery. Having a choice of delivery time ranked third, and sustainability concerns ranked last.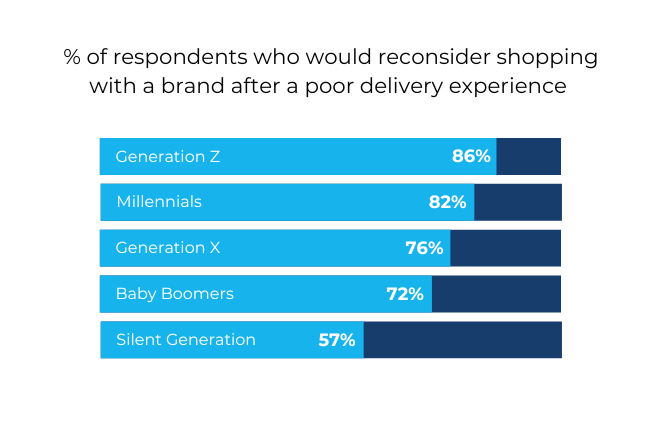 In 2023, customer attention and retention will be more difficult to maintain than ever, so every brand interaction is essential. With Enveyo, take control of the post-purchase experience through every notification, email, and text. Turn shipping communication, a typically mundane part of the customer experience, into an additional marketing channel for your brand.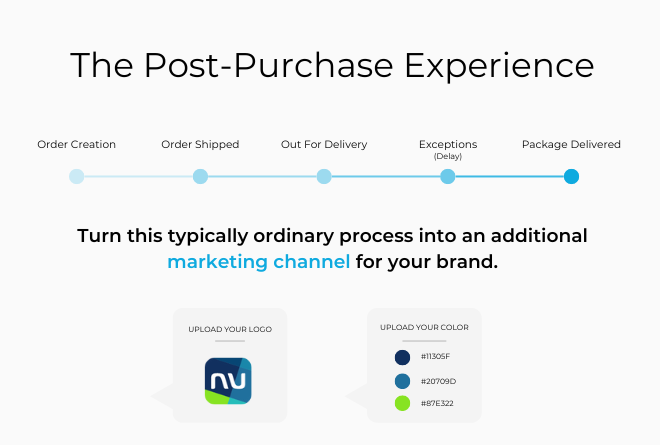 3. Automate Decision-Making
It's a guarantee that 2023 will be a fast-paced business landscape. Having powerful automation to execute, measure, and monitor your initiatives will be the difference between success and failure. Successful companies will be able to reduce non-value-added manual work and leverage customized predictive analytics.
Automation uses artificial intelligence, machine learning, business rules, and other technologies and techniques to make decision-making a planned and orchestrated process. Automated decision-making shipping systems follow predefined business rules to increase productivity and efficiency.
"What areas should I automate in my shipping?" Great question. Decision automation is best applied to predictable, repetitive, manual tasks to reduce human effort and errors. First, it's important to understand what data, information, and systems are required. Then determine the rules necessary to execute and define what success would look like. 
Enveyo's Cloudroute TMS software incorporates an advanced decision-making engine to act on shipping rules specific to the needs of your business and customer. For example, many shippers are looking at carrier diversification, but are concerned about losing their volume-based discounts with their primary carrier. Creating business rules ensures you hit your primary carrier's revenue band while diverting excess volume to regional and final mile carriers that get packages to your customers faster, cheaper, and more efficiently. 
4. Diversify Your Carrier Network
It is no surprise that single-carrier shipping is no longer sustainable. A diversified carrier mix is necessary for small to enterprise businesses to have a flexible shipping strategy.
According to Pitney Bowes, global parcel shipping volume reached 159 billion parcels in 2021 and is expected to exceed 256 billion by 2027. With this growth in the near future, it is vital that each package be executed cost-effectively without compromising service and transit times. 
Shippers that adopt a multi-carrier approach in 2023 will be able to:
Reduce Costs

Increase Sales

Add Agility & Flexibility

Mitigate Risk

Provide Extra Capacity

Decrease Delivery Times

Shift Capacity Quickly
Now is the time to evaluate your current carrier mix and develop a winning multi-carrier parcel strategy. Trying to figure out where to get started? We have outlined a comprehensive guide complete with how-to steps for execution and implementation. 
5. Implement The Right Tech Stack
With so many new players and solutions in the market it takes time to determine what product is the right fit for your logistics operation. Many of these new systems solve individual point problems, instead of solving root issues. This can often create compounding problems, massive data integrity issues, and require additional internal and external resources. 
Yikes. Where to even start?
Start with a trusted technology partner that understands the importance of solving root issues and values data quality. 
"We've found success in leveraging Enveyo's platform to let the data tell the story, and more importantly, make the decisions." – Senior Director, Global Trade.

Cloud-based solutions automate processes and have advanced integration capabilities to help shippers have an effective shipping tech stack. Traditional systems are often outdated, slow, and siloed. Standardizing on one cloud-based multi-carrier shipping software suite enables organizations to efficiently analyze, model, automate, and audit their shipping operations.
Outside of technology, you deserve a team that is here to help you succeed. In 2023 get the data, technology, and professional support your supply chain needs. 
Don't be left surprised, unprepared, and scrambling. 
Keep these 5 small parcel best practices to help you navigate the challenging and ever-changing logistics landscape. In doing so, your supply chain will be more nimble, efficient, and future-proof. 
Get a solution that includes tools for parcel spend management, delivery experience management, logistics optimization, and cloud transportation management. Schedule a demo to see how your shipping can benefit from our all-in-one software solution.