Sarah Barnes-Humphrey, Founder of Let's Talk Supply Chain, interviews Coby Nilsson, Enveyo's CEO & Co-Founder on the importance of greater visibility in today's supply chains.
At Manifest: The Future of Logistics industry event, Enveyo's CEO & Co-Founder, Coby Nilsson, sat on the Digitization & Visibility panel, A Window Into Visibility, with other supply chain visibility experts. This article will share Coby's insights into the topic that's at the top of shippers' lists…
Supply Chain Visibility
If it wasn't already a major focus area for you, it certainly is now. We can thank the pandemic for that, which accelerated several aspects of our industry, and the need for end-to-end visibility is up there as one of the biggest. But before we begin to transform our supply chain visibility, it is important to answer – how do we define it? It differs depending on where you sit in the chain, and we will first define it from our own perspectives during this conversation.
Sarah Barnes-Humphrey: Hello everyone! It is so great to be back in person and see familiar faces from the online world in person! My name is Sarah Barnes-Humphrey: I'm the founder and host of Let's Talk Supply Chain and I'll be your host for today's panel discussion.
It is very rare that we have four vendors that solve different challenges on stage together to talk about the variations of visibility. I don't know about you, but when I speak to different people there seem to be different versions of what visibility is and the role it should play. So, in today's session, we are going to hear straight from the sources how they are thinking about visibility, how their customers are thinking about visibility and real stories of how organizations are using visibility in their supply chains as competitive advantage and the ROI they are seeing.
So welcome to Coby Nilsson, Loudon Owen, Kent Ledgerwood and Chris Georgen who are going to shine a light on this growing trend for us today. Thank you for joining us.
Let's start with some introductions. Can you tell me who you are, what you do, and what you find most exciting or interesting about supply chain visibility?
Coby Nilsson: Thanks, Sarah. And thanks to the Manifest team for having us; we're excited to be here.
Hi everyone, I'm Coby Nilsson, and I'm the CEO & Co-Founder of Enveyo. For those of you who aren't familiar, Enveyo provides a logistics optimization software platform that enables end-to-end supply chain visibility. We like to say, "visibility enabled from click to ding dong," or management of the entire lifecycle of the order – from purchase to delivery.
In terms of what I find most exciting; supply chain visibility is foundational to everything that follows a purchase event – the intelligent orchestration as well as communication with and management of the customer experience.
Logistics is really hard right? We're dealing with extremely elevated consumer expectations all while the landscape, rules and partners we rely on to help us succeed are evolving on a daily basis. We simply can't address our operational challenges if we can't see them. So at Enveyo, we're extremely passionate about helping logistics leaders like yourselves simplify the complex and SEE what's happening so that you can make business-transforming decisions.
Sarah Barnes-Humphrey: Let's define what we mean by visibility across the supply chain. How you are thinking about it inside your organization and how your customers are thinking about visibility?
Coby Nilsson: That's a great question, Sarah, because I do think organizations may look at this a bit differently than one another depending on their products or services.
Visibility across the supply chain has many stakeholders. Shippers, carriers, and consumers are the big ones, right, but we can make that group more complex by introducing 3PLs and 4PLs, as well as national, regional, and final mile carriers if we're just thinking domestically here. These stakeholders across the supply chain need visibility into so many data points – sourcing, inventory, orders placed & shipped, package location, carrier exceptions, packages delivered… and that's the short list. On top of that, stakeholders need to know where they're winning and where they're losing so they can make necessary shifts to gain the competitive advantage and ROI you mentioned earlier. Ever evolving market and supply chain conditions further complicate the quest for greater visibility.
The way we think about this challenge at Enveyo is through a data-first mindset. The data points I mentioned are often found in many different silos & systems, so to attain the visibility that supply chain stakeholders demand, the decentralized state of their data makes the first step quite difficult.
Centralizing and standardizing your supply chain data is an essential step towards visibility because it eliminates noise and potential missteps brought by human error and data silos. Shippers need to have the information and the agility to pivot when needed. Once you have clear visibility into all your shipping program data, the strategy forward becomes clear as well.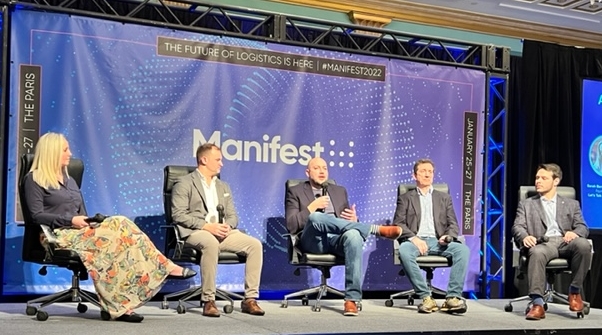 Sarah Barnes-Humphrey: Next let's get into some storytelling and real-life examples so the audience can really picture how your solutions and visibility can give them an edge. Tell me what was the challenge a customer came to you with, what was the solution you provided and what was the ROI they experienced?
Coby Nilsson: Circling back to what I previously mentioned about increased complexity with supply chain stakeholders as we think about visibility specifically with 3PL providers, I'll share a recent success story about our customer, Saddle Creek Logistics Services.
Saddle Creek's customers, just like the rest of the market, were demanding more visibility into their parcel shipment data. When you think about 3PL parcel shipping operations and the complexity that accompanies that with a 3PL the size of Saddle Creek, supplying all their customers with real-time parcel analytics was a challenge. Saddle Creek turned to our team at Enveyo to help enable that real-time visibility.
Through implementation of our integrated parcel analytics platform, Insights, they are able to publish white-labeled reports & dashboards for each of their customers that display their unique parcel shipping data.
So what does that mean?
Saddle Creek is now the source of visibility for their customers. Those customers now have real-time visibility into key performance indicators like carrier time in transit, delivery status, delivery exceptions, and they can drill down on speed and costs by carrier to analyze their performance.
Because the parcel market is constantly evolving, it's critical to understand how carrier changes impact costs and delivery experience, and it's the data sourcing & interpretation of that data that's been a major challenge for shippers. Saddle Creek can now offer our white-labeled parcel analytics platform as a value-added service to their customers which helps to increase their sales, customer onboarding and retention as well.
It's this level of visibility we get excited about enabling for our customers at Enveyo because great brands have made some pretty cool shifts that have driven amazing results.
Sarah Barnes-Humphrey: Lastly, one of the most important things I think we can do on stage and at the end of the discussion is to give the audience something to walk away with, to consider to think about or to implement. What would you like to contribute to that?
Coby Nilsson: What I often say when talking with shippers about how to solve their visibility challenges is, "let us show you what you don't know." For companies like Saddle Creek, and likely many other shippers here at Manifest, decentralized shipping data can be a major barrier to achieving greater visibility, Data is the solution when looking at it through the right lens.
We all know that pandemic-related disruptions have shifted how our entire global supply chain functions. While these disruptions were unanticipated and largely unavoidable over the past 23 months, I'd like you to walk away from this session thinking about thoroughly analyzing your supply chain & shipping processes holistically, because the game changes this year. We can't claim surprise in 2022.
Integrating and normalizing your parcel shipping data is the solution to start answering your unanswered questions and most certainly will result in competitive advantage and ROI this year and for years to come.
Sarah Barnes-Humphrey: Well, that brings us to the end of today's panel discussion. Thank you so much to Coby, Loudon, Kent and Chris for your invaluable knowledge and insight – I really enjoyed the session and learned a lot. The growth in visibility, in actually quite a short space of time, is exciting and it really helps to give us all hope as we, as an industry, continue to face widespread disruption. Visibility has the power to transform our supply chains and I'm looking forward to seeing what it could potentially open up for all of us.
Thank you to you, the audience – I hope you enjoyed the session and, of course, do feel free to connect with us during the show. And I want to say a final big thank you to Manifest for organizing this incredible event and getting us all together once again – thank you. And I'll see you all soon, bye!