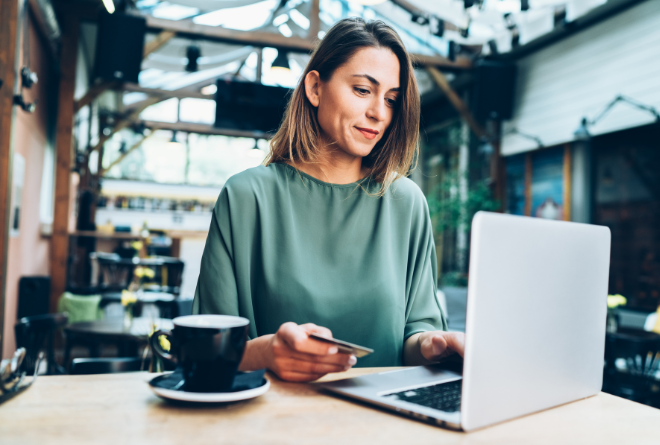 The best e-commerce shopping experiences don't stop at checkout. A top-notch fulfillment phase and customer delivery experience is critical because it is the most emotional part of the e-commerce shopping experience… the anticipation of receiving the order.
A consumer's experience with your brand during the fulfillment phase is just as important as all of the touchpoints leading up to clicking "buy now," as it heavily influences their decision to buy from you again. Continually optimizing your organization's delivery experience is crucial in today's e-commerce environment, and delivery management software offers key features for your organization to deliver. Literally.
Let's dive into what delivery management software is, key features and capabilities, and five ways it helps your brand boost sales.
Understanding Delivery Management Software
Delivery management software is technology that focuses on enhancing and optimizing the overall customer experience during the fulfillment phase by placing a strong emphasis on customer satisfaction and engagement throughout the delivery journey.
When searching for what delivery management software solution is best for your business, make sure it has these capabilities:
Real-Time Tracking and Visibility: First and foremost, your delivery management solution needs to seamlessly provide customers with real-time visibility into the status and location of their deliveries. This helps to manage customer expectations and reduce uncertainty associated with delivery times.
Communication and Notifications: Automated communication with customers throughout the fulfillment phase is critical to ensure you eliminate that WISMO ("Where Is My Order?") call to customer service. Delivery management software enables automated communication with customers, providing proactive updates on delivery status, estimated arrival times, and any delays due to carrier exceptions. This keeps customers informed and engaged throughout the journey of their package.
Delivery Performance Analytics: Shippers should have the ability to analyze data from each of the carriers in their network as well as key performance indicators (KPIs) related to delivery performance, helping you identify bottlenecks and areas where you can continually enhance the customer experience.
Returns Enablement: Modern delivery management solutions also assist in managing the return process, providing customers with a smooth and hassle-free way to return products without calling customer service and risk becoming frustrated with their delivery experience.
The primary goal of delivery management software is to not only ensure that deliveries are executed efficiently, but also to create a positive and memorable experience for customers. By providing customers with greater control, visibility, and convenience, you can build stronger relationships and boost customer loyalty, leading to increased customer retention and higher brand reputation.
Five Ways Delivery Management Software Increases E-Commerce Sales
Delivery management software can significantly impact e-commerce sales in various ways by improving the overall customer experience, increasing customer satisfaction, and building brand loyalty.
Here are some examples of how it can also boost e-commerce sales:
Reduced Cart Abandonment: By providing an estimated delivery date and transparent tracking, delivery management software can reduce cart abandonment rates. When customers know when their orders will arrive and can track them easily, they're more likely to complete their purchases.
Improved Delivery Transparency: Delivery management software provides customers with real-time tracking and delivery status updates. When customers have visibility into the journey of their packages, they are more likely to trust your brand and make repeat purchases, knowing they can rely on accurate delivery information. If customer expectations are not met, most will switch to another merchant to get what they need.
Enhanced Communication: By providing customers with real-time tracking and proactive notifications, delivery management software keeps customers informed about their orders, reducing uncertainty and frustration. Remember, the most emotional part of the purchasing process for the customer is the anticipation of receiving their order, so creating confidence with proactive communication is key. Satisfied customers are more likely to return for future transactions.
Personalized Marketing Opportunities: Delivery status emails have an average open rate of 80%. Read that again… 80%. That's 4 times higher than the average marketing promotion email. Leveraging delivery status notifications via email, SMS, or a branded landing page for personalized marketing opportunities is a critical tool for cross-selling and upselling. Delivery management software allows for personalized marketing messages that provide recommendations and promotions based on the customer's preferences and location, when they're most engaged with your brand. Promote related products, discounts on future purchases, local, in-store deals, or referral promotion codes for recommending your brand to friends and family.
Returns Management: Returns are a growing part of e-commerce. With fewer brick and mortar stores carrying a large inventory to try on items and select the best fit, many consumers are ordering products in multiple sizes and colors and using their at-home dressing room to make their final selections. An efficient returns process facilitated by delivery management software makes customers more confident about making a purchase because they know that returning items is hassle-free.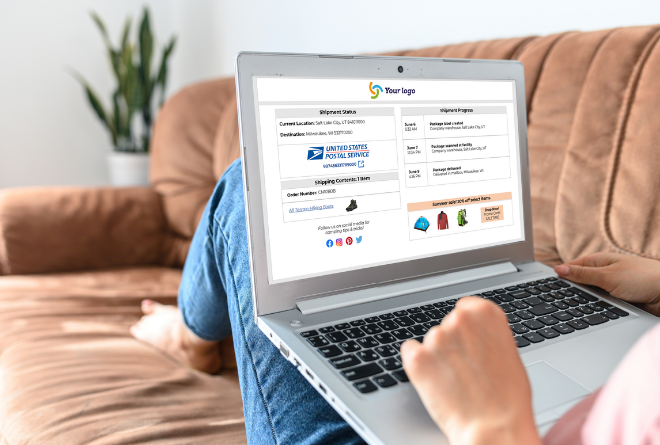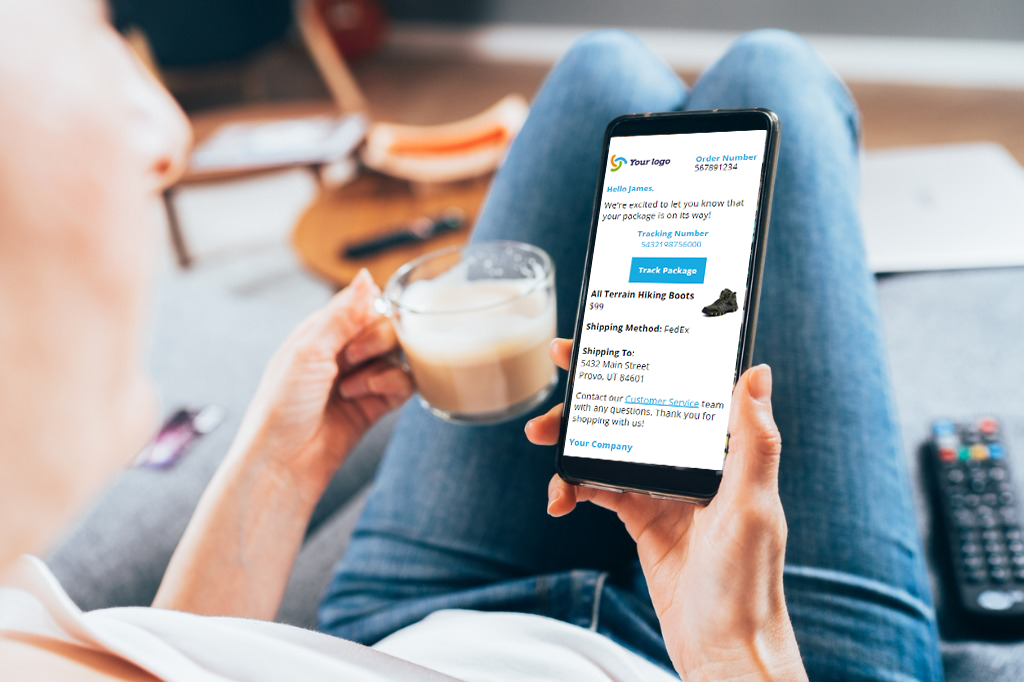 Increasing Visibility Into Delivery Performance
Beyond improving the customer's experience during the fulfillment phase of the e-commerce buying process, having real-time visibility into parcel carrier data can further increase your delivery performance.
In today's fast-paced shipping landscape, it's critical that shippers have clear visibility into each order once it leaves the warehouse, which requires aggregating data from all your carriers into a single source of truth. Leveraging a robust, logistics optimization platform that acts as your control tower for carrier performance data, allows you to keep an eye on all shipments, and the potential disruptions that may occur, to proactively resolve issues and ensure shipments have a smooth journey.
Integrating your delivery management software with a data-driven parcel analytics platform gives you real-time visibility into key performance metrics, including:
Accessorial charges

Fuel surcharge
Residential surcharge
Delivery area surcharge
Shipping change correction
Carrier time in transit

Number of orders created per day
Time in warehouse – "click to ship"
Total packages shipped
Total out for delivery
Overall time from ordered to delivered – "click to ding dong"
Shipping volume by origin & destination
Peak season surcharges
DIM Fees
Delivery Exceptions
Guaranteed Service Refunds (GSRs)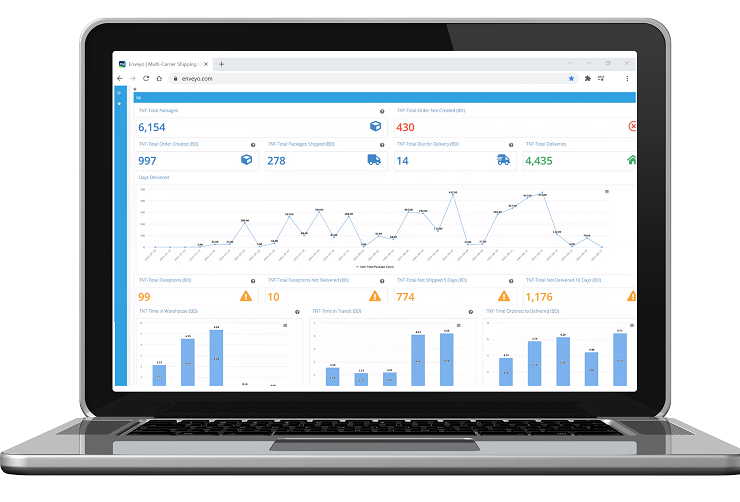 Delivering The Best Shipping Experience To Drive Revenue
The best e-commerce shopping experiences go well beyond the cart. Shippers that harness the power of delivery management software to proactively communicate shipment status, deliver timely and personalized shopping recommendations, and enable a seamless returns process will ultimately come out on top. When customers have positive delivery experiences, they are more likely to return for future purchases and recommend your brand to others, ultimately driving higher sales and revenue.
Boost Your E-Commerce Sales Through Delivery Management Software
Schedule a Meeting